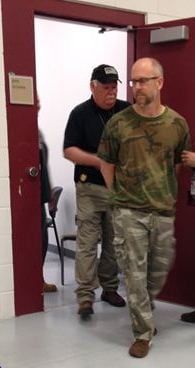 James Flanders
Former pastor arrested in 2011 disappearance, murder
Posted: May 14, 2015 4:40 PM CST
By Jonathan Andrews, Digital Manager
Source:
http://www.fox10tv.com/story/29068783/former-pastor-arrested-in-2011-disappearance-murder
COCHISE, AZ (WALA) -
A former pastor was arrested more than 1,500 miles away from his church and home in Fort Walton Beach, suspected of a cold case murder from 2011.
Ty Flanders, 46, was arrested on Thursday for the 2011 murder of Marie Carlson of Fort Walton Beach. Flanders was charged with second degree murder.
Disappearance was mysterious
Carlson, the mother of Flanders' newborn child, was last seen on October 17, 2011, at the home they all shared with his wife.
According to the OCSO, several people got a message from Marie that said she'd left Fort Walton Beach to "do something she had always wanted to do", but the message reportedly didn't have any more information.
Her ex-husband, Jeff Carlson, reported her missing seven days later after he couldn't contact her.
James Flanders located her vehicle at the Fort Walton Beach Airport, a day later, but there was no record that she'd rented a vehicle or flown out.
Carlson's disappearance was recently featured on a TNT show about cold cases, which brought national attention to the case.
Flanders was arrested without incident and will appear in court in Arizona.
--- end ---
Marie Carlson
Former Pastor Arrested In Cold Case
Posted: Thu 3:41 PM, May 14, 2015
By: Press Release: Okaloosa County Sheriff's Office
After the disappearance and murder of Marie Carlson was featured on a national television show, a former local pastor has been arrested in Arizona in the case.
The Okaloosa County Sheriff's Office, the Florida Department of Law Enforcement, the U.S. Marshal led Arizona WANTED Violent Offender Task Force, and the Arizona Department of Public Safety announces the arrest of 46-year old James Ty Flanders for the 2011 Murder of Marie Carlson of Fort Walton Beach.
Flanders, former pastor of Calvary Chapel Emerald Coast at 407 Racetrack Road, was taken into custody at his home in Cochise Arizona by members of the Task Force and Department of Public Safety.
He was arrested in connection with an Okaloosa County Warrant of Second Degree Murder, signed by Circuit Judge William Stone. Investigators with the Okaloosa County Sheriff's Office are in Arizona as this case continues to develop.
http://www.wtvy.com/news/headlines/Former-Pastor-Arrested-In-Cold-Case-303802301.html
--- end ---
RECENT TV SHOW THAT TELLS ABOUT THE CASE
ANOTHER LOCAL NEWS STORY
Former pastor charged in local woman's disappearance
By KATIE TAMMEN | Daily News
Published: Thursday, May 14, 2015 at 17:18 PM.
Marie Carlson, right, and her sister Esta Bridges took this picture on Oct. 15, 2011 while visiting Alys Beach together. Marie texted the photo to her sister later that night. It was the last time anyone in the family saw Marie.
A former Fort Walton Beach pastor was arrested Thursday and charged for his suspected role in the 2011 disappearance of a local woman.
James Ty Flanders was taken into custody at his home in Arizona on a warrant for second-degree murder, according to a news release from the Okaloosa County Sheriff's Office.
He is accused of killing 37-year-old Marie Jane Carlson.
He will be brought back to Okaloosa County to face the charge, but it wasn't clear when he would arrive, according to Sheriff's spokeswoman Michele Nicholson,
"Thank goodness! Thank God! Hallelujah!" Marie's brother Randy Bridges said Thursday afternoon upon hearing the news. "Finally some relief."
Marie was reported missing by her ex-husband, Jeff Carlson, on Oct. 24, 2011, after he and their daughter couldn't reach her.
Early on in the investigation, Flanders told detectives he'd last seen Marie on Oct. 17, 2011, and that she'd been upset. He said he went out for a run after the disagreement and when he came home both she and her truck were gone.
Her disappearance was featured on the TNT show "Cold Justice" on April 17.
"What we got in April was more than I could have asked for," said Esta Bridges, one of Marie's sisters. "I didn't know this was coming. This is more than I could have ever imagined."
Before she disappeared, Marie had been living with Flanders and his wife. She had recently given birth to a daughter she conceived with Flanders.
During the course of the investigation, detectives heard several different stories about how and why Marie became pregnant with her second child.
Flanders and his wife initially said Marie served as their surrogate, but people from Calvary Emerald Coast Church told investigators the three were involved in a polygamous relationship.
The wife has not been charged in connection with the case and the child remains in her care, Nicholson said.
Flanders' arrest was based around seven primary revelations in the course of the investigation, according to the report.
Among the items to play a role were cell phone records that placed Flanders with Marie's truck, the fact Flanders didn't tell investigators he and Marie had a physical altercation on the night she disappeared, that he and his wife didn't report her disappearance and that they left the area in the middle of the night.
Detectives also cited a conversation Flanders had with a friend about needing to get out of the country about two weeks after Marie went missing.
Esta and Randy both said they're hopeful they will finally be able to find Marie's body and put her to rest.
"I found out at work, and after that I went straight to church to pray," Esta said. "I want to know where she's at.
"She deserves that. We all deserve that."
http://www.nwfdailynews.com/local/former-pastor-charged-in-local-woman-s-disappearance-1.478228?ot=hmg.PrintPageLayout.ot&print=photo